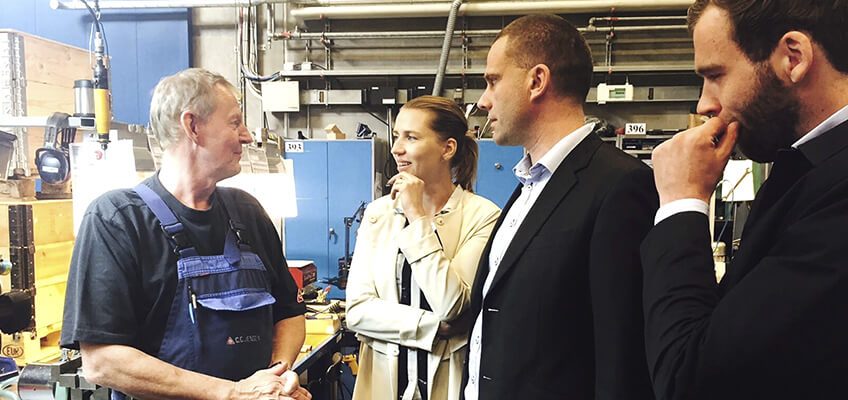 politician Mette Frederiksen visits C.C.JENSEN
The Politician Mette Frederiksen visited our filter Production Plant in Svendborg on 18.05.2016.
Mette Frederiksen is the leader of the biggest Danish opposition party, Socialdemokraterne.
Interview with Politician Mette Frederiksen about C.C.JENSEN
18.05.2016
Politician Mette Frederiksen was interviewed (in Danish) by our local radio station, Radio Diablo. Below is a summary of the interview:
"Visiting C.C.JENSEN was a great experience. CCJ is an extremely good company with a lot of very proud and highly educated employees. The company has delivered an amazing financial report for spring 2016. Furthermore, they have proved that investing in robot technology, and doing it cleverly, you are able to keep production in Denmark. Denmark needs strong private companies and here we as politicians have a responsibility. Denmark has the conditions to keep being one of the best societies in the world, something that has even been mentioned in the American election campaign! This society is based on the fact that here in Denmark we are very equal, eg the smith and the engineer are in direct dialogue making it possible to see if a specific design is possible and realistic in the real world. We have a very equal society; we find it easy to cooperate with people with different educations than ourselves. This is indeed a fantastic story!"
Listen to the entire interview (in Danish):
https://www.facebook.com/helesydfynsradio/videos/996689813718879/
Below we refer to her statements at her Facebook page:
"C.C.JENSEN epitomizes a solid Danish company. All their production takes place in Denmark. This is possible because they have been enormously proficient to invest in automation while they upskilling their employees so that they can cope with the more specialized tasks. It pays to invest in the future - well done C.C.JENSEN!"