Chile State visit 2013
Santiago, March 11-14, 2013
During His Royal Highness The Crown Prince Frederik of Denmark and Her Royal Highness The Princess Mary's visit to Chile in March, C.C.JENSEN participated in a large business seminar in Santiago.
600 business people from Chile visited the seminar where 51 Danish companies presented their products. C.C.JENSEN had in addition to that a display stand, where we demonstrated the efficiency of the CJC® Oil Filters.
HRH The Crown Prince visited the stand and General Manager Marcelo González L. had a long talk wit the Crown Prince about the benefit of saving oil and improving the life time of components in the mining industry in Chile. Later in the week, HRH The Crown Prince visited a mining site in the north of Chile, where he with his own eyes could see the very rough environment.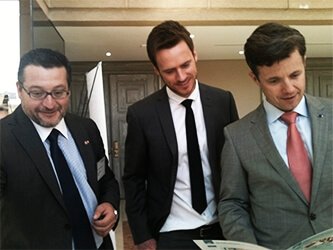 From left:
General Manager Marcelo González L., C.C.JENSEN Chile, in the center, First Secretary, Mr. Laurids Refslund, The Danish Embassy Chile and to the right HRH The Crown Prince of Denmark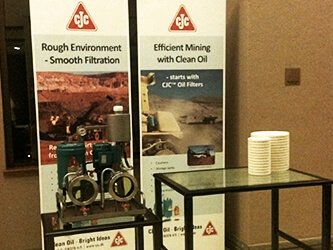 The CJC Filter Display Stand, oil filtration in the mining segment