filter inserts

Increase lifetime of both oil and system components
Clean & dry oil is the key to reliable system operation, and C.C.JENSEN is the global leader in oil filtration.
CJC® Filter Inserts have outstanding oil-filtration capability with dirt and water-holding capacities of up to 4 kg of dirt per insert.
All CJC® Filter Inserts have an oil filtration degree of 3 µm (micron) absolute. This means that 98.7% of all solid particles larger than 3 µm and approximately 50% of all particles larger than 0.8 µm are retained in one pass.
Sustainable solution
CJC® Filter Inserts are produced from 100% natural plant and/or wood cellulose fibers. Natural organic sustainable fibres are nature's best with properties superior to those of synthetic fibres. Natural cellulose fibres come in many sizes and shapes. To make the best Filter Inserts, we mix and treat raw fibres before making our unique composition and design, which is comprised of only organic cellulose filter material. 100% natural cellulose fibers - no metal, no plastic, no chemicals.
A-Filter Inserts are made from wood cellulose, and B-Filter Inserts are made from either plant cellulose or a mix of plant and wood cellulose.
How do you ensure clean & dry oil
Remember to change CJC® Filter Inserts according to pressure gauge or at least once a year in order to ensure clean & dry oil!
Click here to learn how to replace a filter insert.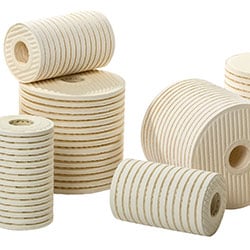 Customer Cases, learn how other customers benefit with CJC, please download from below Application Study library:
A-Filter Insert
B-Filter Insert
EC / EO / EL Filter Insert
F-Filter Insert
Ultra Fine, Flushing & Cleaning, GFi
Varnish Removal insert, VRi
Blue Baleen Oil Absorb Inserts