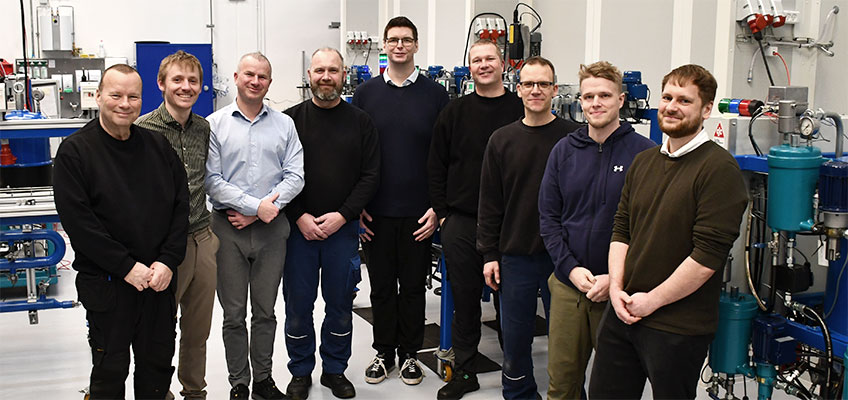 Innovation & Validation
C.C.JENSEN test facilities
Ensuring that the oil flowing through your production facilities is clean and dry is becoming more and more important every day, due to the requirements for stable manufacturing with low maintenance costs, but also due to today's strong environmental focus.
Within C.C.JENSEN's test facilities, a large group of engineers and designers are developing and testing oil filtration systems that match the specific requirements for the global market. Because of the wide range of oil types and applications, the complexity of these systems is high.
To develop a new product, we need to understand fully both the customer's environment and their production facilities. We monitor and simulate temperature, pressure, flow, oxidation, and the size and type of wear particles, which provides the data our engineers need when designing an oil filter. Internally, we run short tests on the efficiency of filtering particles and water and longer tests on stability and dirt-holding capacity. A large number of online sensors are used during testing, including particle counters, and water and oxidation sensors. We can run tests for our customers that simulate their real-life applications as closely as possible.
For many years, the market has used test methods designed for thin pleated filter media, e.g. the ISO 16889 multi-pass test. Since such tests are not suitable for the depth filtration technology used in CJC® Filter Inserts, we had to develop completely new and unique standardised offline depth filter tests, which demonstrate the outstanding filtration capabilities that the CJC® Filter Inserts can offer. The main advantage of a CJC® Filter Insert is its huge surface area. The oil flow and particles are very evenly distributed, which ensures that they have a stable low velocity. This achieves the optimum retention of contamination, making possible an unmatched dirt-holding capacity.
We test our oil filters with many different types of oil, from diesel fuel to gear oil, so that we can guarantee that the oil filter we fit is right for the type of oil. In order to fully understand the processes, we conduct tribology tests on wear, abrasion, adhesion, fatigue, friction, etc.
Finally, we have supported various master's projects in cooperation with the University of Southern Denmark, the Technical University of Denmark and Simac.