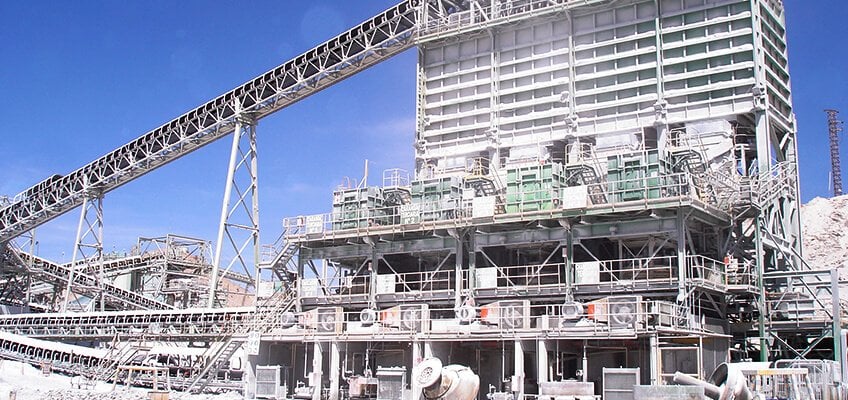 crushers

Crushers operate under extreme environmental conditions, where high ingress of dirt (and sometimes water) is part of the daily operation. This leads to highly contaminated systems and dirty oil which can have a crucial impact on system components and reliability. In order to avoid unforeseen breakdowns and/or excessive wear, many operators believe the plant should be shut down periodically to change the oil. But it is actually possible to keep the oil clean and dry during operation. Using CJC® Oil Filter solutions you can eliminate three out of four oil change intervals, and at the same time reduce wear on components. Your hydraulic power packs, clamping cylinders, hydraulic adjusting motors, tramp release cylinders, valves and pumps will perform well and have a long lifetime.
Challenge
Given the rough operating conditions for a crusher, it is common to believe that you need to change oil frequently – sometimes every quarter; or in some cases even more often. A crusher breakdown is extremely expensive when measured in lost production, so operators will rather change the oil too frequently than run the risk of unforeseen breakdowns. Typically oil changes happen every three to four months in order for the operation to run - a very costly and unnecessary measure, especially since production is put on hold during the oil change. In some cases, you may need to shovel out dirt from the oil reservoir during oil change intervals. In terms of servicing the filter, the high volume of particles in the environment pose a risk of high costs for replacing clogged filter insert too often, if dirt holding capacity is low.
Benefits, installing CJC® Oil Filters
Eliminate 3 out of 4 shutdowns
Extend oil lifetime with a factor 4
Reduce spare parts consumption by up to 60%
Reduce risk of unforeseen breakdowns, repairs and maintenance
Protect your investment
It is true that if the oil is not kept clean and dry you will experience more often service shutdowns and repairs; and you will increase the risk of a critical breakdown. But it is not true that the only way to mitigate this risk is by changing the oil frequently. Quite on the contrary. A CJC® Oil Filter can ensure only one oil change per year and at the same time reduce wear on your components. You will no longer have to clean tanks during oil changes; you can change CJC® Filter Inserts without stopping the crusher; the high dirt holding capacity of the CJC® Filter Inserts ensures that you will not have to change inserts on a monthly basis, and you will experience less wear on critical components. When you choose CJC® Oil Filters, you ensure a long lifetime of the mechanical and hydraulic systems. And you can even monitor from remote the condition of your system using the Oil Contamination Monitor (OCM).
Your solutions
For crushers the following CJC® System Solutions apply:
Today, the world's leading manufacturers of crushers deliver new crushers from factory fitted with a CJC® Oil Filter, because they know it ensures safe, reliable and effective operation.