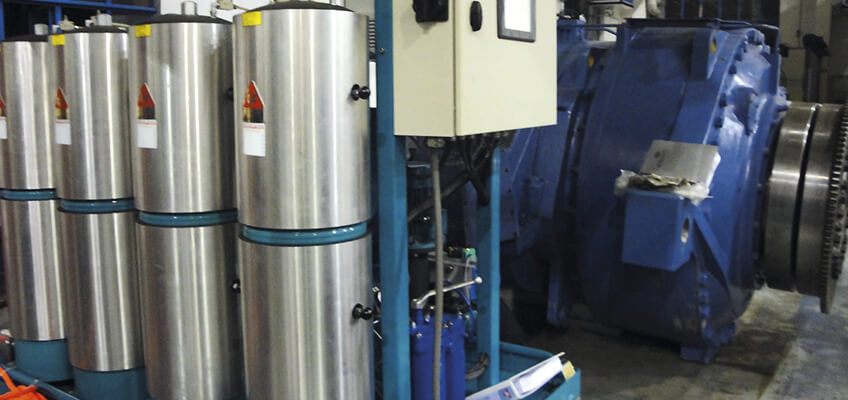 gearbox flushing

System
Wind turbine gearboxes are the most complex part of the wind turbine. The gearbox is the heart of the wind turbine and it must work at optimum, to ensure maximum output and yield. Wind turbine manufacturers place very high demands on suppliers in terms of process reliability and documentation of performance on individual gearboxes delivered. Wind farm owners place strong demands on companies servicing their equipment. Gearbox suppliers and service companies must comply and deliver a product which is documented free from particles and ready for use.
Challenge
If particles get inside the gearbox during the production, testing or repair processes, they will create wear. If these are not flushed out before delivery, then the risk of rejection is high. Gearboxes are expensive and production time is long, so rejections can cause a delay in production or delivery of the wind turbines. Legal and compliance demands may cause penalties, and customers may be lost due to delays.
Benefits, installing CJC® Oil Filters
Achieve delivery and repair of gearboxes that live up to market requirement to cleanliness
Be compliant with documentation requirements from even the toughest wind turbine manufacturers and wind farms
Make acquisition of new customers easier
When you install a CJC® Oil Filter solution on your gearbox production or repair line, you make sure you deliver gearboxes compliant with customer specification, documented as per market requirements. This will avoid customer complaints due to particles, since you have the documentation. In addition, this can ease acquisition of new customers in the industry. During the flushing procedure, you can remotely monitor the condition of your system using the Oil Contamination Monitor, OCM15.
Your solutions
For wind turbine gearbox flushing and documentation, the following CJC® Oil Filter solutions apply:
The CJC® System Solutions are used on numerous wind turbine gearbox production lines, and we can deliver the best solution depending on gearbox type and your documentation requirements.
Learn how other customers benefit with CJC® – Click to download Customer Cases.