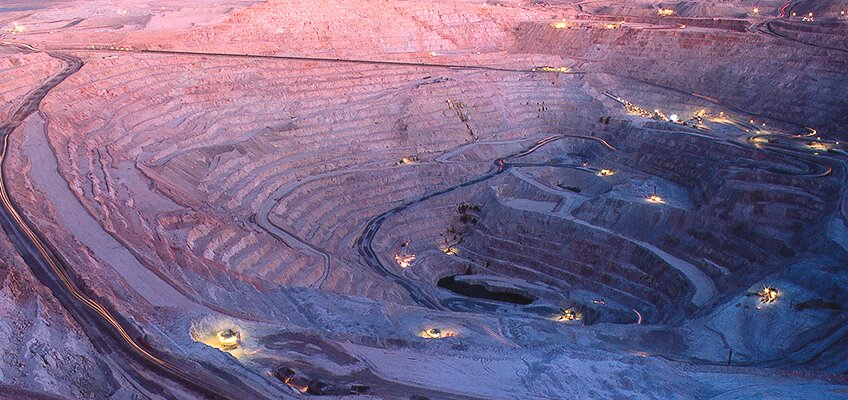 BHP Billiton, Minera Escondida, Chile
"Increased productivity by using CJC® Fine Filter"
87% less downtime and
annual savings of up to 445,200 USD
Customer
BHP Billiton, Minera Escondida, Chile
System
Primary crusher, Fuller - Traylor gyratory crusher (FLSmidth)
Oil type: ISO VG 320
Oil volume: 4,000 L
Crushing capacity: 6.000 ton/h
Problem
The crusher was subject to large dirt and contamination ingress from the environment, which resulted in breakdown of the dust seal and breakdown of oil-lubricated components. The ISO codes were seen as high as 25/23/22.
This led to high operational budgets:
Oil change on avg. every 60 days of 4,000 L oil = 6 shutdown per year
Unplanned breakdowns of critical components
Each oil change means 8 hours shut down, resulting in lost production.
Despite the almost daily inline filter change, the oil still had to be changed too frequently.
Solution
CJC® Fine Filter HDU 427/108 was installed with 16 off CJC® Filter Inserts, type B 27/27 with a dirt holding capacity 64 kg (4 kg per insert).

CJC® Fine Filter,
HDU 427/108 installed

Dirty and saturated
CJC® Filter Insert

Result
The CJC® Fine Filter HDU 427/108 removes up to 150 kg of dirt every two month. The continuously operation of the CJC® HDU 427/108 kept the contamination out of the oil system. This led to increased oil lifetime and reduced cost for component change. After the CJC® Oil Filter was installed, the inline filter consumption was almost eliminated and three out of four of oil changes were avoided.
Avoiding shut down costs of 10,600 USD per hour for each stand still, resulted in a direct impact on the bottom line.
Productivity was increased significantly,
87% less downtime and
annual savings of
up to 445,200 USD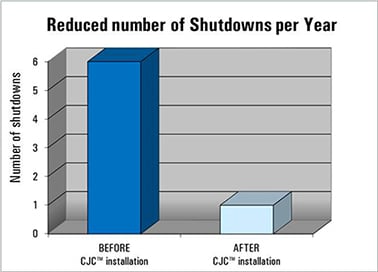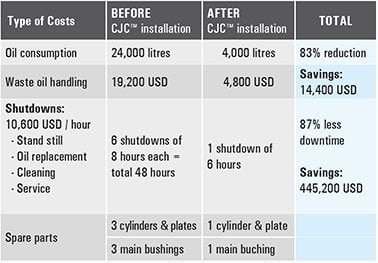 Application study written by
Marcelo Gonzales L. C.C.JENSEN Chile &
Alexander N. Andersen C.C.JENSEN A/S
In co-operation with
BHP Billiton, Minera Escondida, Chile
Installation year
2006 - 2016