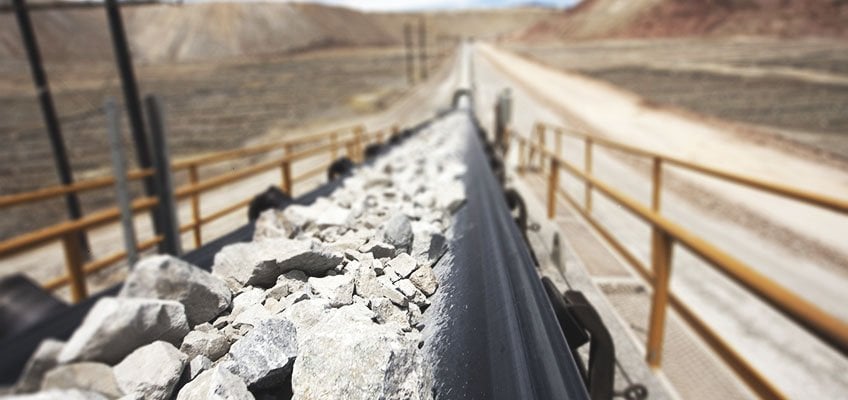 conveyor belts

Conveyor belts are like the veins in your body; they transport the minerals between the different processes in the mine, and they have a number of gears, lubricated bearings and hydraulic systems that must work to keep mineral output high. Due to the high levels of particles and changing temperatures in the environment, it is critical to remove particles, water and oxidation residues to keep the systems running and achieve a long lifetime. A conveyor belt which is not running due to broken pulley bearings or gears is critical in terms of output.
Challenge
The exposure to extreme weather and dusty environment can severely stress the oil in gears, bearings and hydraulic systems on conveyor belts. If the conveyor systems oil is not kept clean and dry, you risk critical failures, expensive repairs or replacements. If you run single line conveyor belts, a breakdown will simply stop production at the site. In terms of servicing the filter, the high volume of particles in the environment pose a risk of high costs for replacing clogged filter insert too often, if dirt holding capacity is low.
Benefits, installing CJC® Oil Filters
Avoid unforeseen breakdowns and frequent shutdowns to change oil.
Extend conveyor belt systems lube and hydraulic oil lifetime with a factor 3-4
Reduce spare parts consumption by up to 60%
Protect your investment
Lifetime of the conveyor belt gearbox and hydraulic oil can be extended by a factor 3-4, without endangering the mineral transport operation. In fact, it will increase your reliability. When you install a CJC® Oil Filter solution on your gears, hydraulic systems and bearings, you get the oil filter with the highest dirt capacity suitable for the normal service intervals, so that you do not need to service the filter untimely. CJC® Oil Filter keeps oil clean, dry and without oxidation residues, which is documented over many years and in several thousand industrial installations – many of which are in harsh mining environments. When you choose CJC® Oil Filters, you ensure a long lifetime of the mechanical and hydraulic systems. And you can even monitor from remote the condition of your system using the Oil Contamination Monitor (OCM).
Your solutions
For conveyor belts the following CJC® System Solutions apply:
The CJC® System Solutions fit all conveyor belt systems regardless of oil volume, and we can deliver globally where required. In close co-operation with technical organizations, we help select the most fitting solution depending on system type and conditions in the environment.
Learn how other customers benefit with CJC® – Click to download Customer Cases.